A great needle felting starter set for beginners and experienced crafters alike.
We are very proud of our kit which gives our customers a varied selection of high quality wool and tools.  
There are many other starter sets to choose from and we pride ourselves on having researched what kits are available and also what our customers want.   We have gone for quality over quantity so you will find that our kit has a few less colours  (24) and  accessories (no lanyards, split pins etc). Instead our MillyRose Crafts needle felting starter kit has more wool than most others with 24 x 10gm balls (24 colours), plus a huge 50gm of core wool which you can use for the base of your creations and then use your top wool more sparingly.
We have included tools, needles, eyes and pads to keep you going for quite some time.  
Perfect for anyone who would like to try a craft project for the first time, or is looking for a selection of wool to add to their existing needle felting accessories.
 In your Starter Set you will find:
 24 x 10gm balls of Merino Wool Roving (mixed colours).
1 x 50gm ball of White Wool Roving
1 x Bradawl
1 x Pliers
1 x Scissors
3 x Blue Felting Mat
1 x Wooden Felting Handle with Needles
9 x Felting Needles: 3 x different size needles, 3 of each size, small, medium and large
30 x black glass eyes (3mm, 4mm, 5,mm 10 per size)

5 x plastic 8m T Shape noses
We are  a UK based company and we pride ourselves on making sure that our kits only have the best quality wool, tools and accessories in them.
* Our needles are the same needles that we use and are of a high quality.  Needles do however break, especially when new to needle felting.  If you break your needles we will gladly provide you with one new set if you contact us.
You'll love this needle felting wool Starter Set!

Customer Reviews
05/24/2021
Beverley S.

United Kingdom
Perfect starter kit
We loved the variety of colours and the tools were good quality as a small fundraising group we are hoping to make many items to sell to raise funds with seasonal decorations incorporating needle felting such as bunting etc.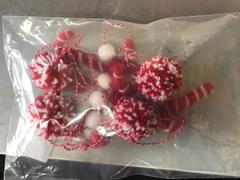 05/28/2021
MillyRose Crafts
Thank you for your lovely review and I hope you had fun. Please keep in touch about your fund raising ideas too.
03/10/2021
Michaela S.

United Kingdom
Amazing service and product
From the minute I went online and spoke to someone for advice to when I got the product I was impressed. Such amazing service so helpful.and really lovely product. I am.new to needle felting and will.be using this website for any future purchases. Highly recommend
03/10/2021
Debra H.

United Kingdom
Starter kit
My kit came very quickly , there is a good selection of colours to get me started on my felting. Can't wait to get started. Many thanks.
01/07/2021
Dominique G.

United Kingdom
Needle felting starter set
Very nice. Love the colours
12/30/2020
Elaine

United Kingdom
Starter kit
The kit arrived quickly and has a wonderful array of colours to start felting with. I can't wait to get started. Thank you