Black and white tuxedo cat Needle Felting Kit
Our Spud the Cat needle felting kit is very special and modelled on our own pet who is a long haired black tuxedo cat with white socks and chest.  He is a round fur ball and a real character!  There is nothing sleek about Spud and his lookalike measures about 16cm tall and about 13cm in diameter across the base....another round fur ball.

This kit can be made so that your cat is furry (and a bit scruffy as our Spud tends to be) or you can give him a much smoother sleeker finish.  You can either randomly felt the back merino wool layer or if more experienced you may choose to fasten on using a hair line method. There is enough black wool for both and we have also included more white wool in case you want more white markings on your cat.
With easy to follow photo illustrated instructions included, our needle felting kits are perfect for beginners and advanced crafters alike.
The kit includes everything you need for creating your own needle felted cat.
 Some of the features of this product:
Set includes: 100% wool roving, felting needles, large felting mat and instructions
Easy to follow step by step photo illustrated instructions
Suitable for grown-ups and children age 10+, some supervision may be required
Perfect for anyone who would like to try a craft project for the first time
100% safe materials.

We are a UK based company and source the best products available for all our kits

You'll love this needle felting wool kit
Please note that glue for attaching the eyes and nose is not included in this kit.  Glue can be purchased as an add on item along with the bradawl which will help to  make the hole for the eyes and nose if you dont want to use your needle.  
Customer Reviews
03/09/2021
Anne

United Kingdom
Loved trying this.
My very first time doing felting. Loved it and couldn't put it down. I would only say remember to make the tail as not on the template and I used all the base wool.I did read instructions but forgot. Found this fun I just couldn't get the whiskers in so just glued them. I made it to look like my own cat.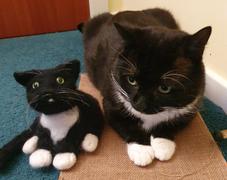 03/08/2021
Bridget A.

United Kingdom
First Order
Not used yet as gifts but look good
02/14/2021
Ros M.

United Kingdom
Spud Cat
This is a great kit with clear instructions. I would have given 5 stars if the kit had included the glue needed to fix the nose and eyes.
02/17/2021
MillyRose Crafts
Thanks Ros and I am pleased you enjoyed the kit. We decided not to supply glue as such a small amount is required. We are looking at this as an option for the future if we can find a small enough glue tube.
02/08/2021
Natasha M.

United Kingdom
Beautiful
Such a beautiful little cat my daughter loved it. I'd highly recommend these lovely felting kits. One happy customer.
02/17/2021
MillyRose Crafts
Thank you Natasha and I am so pleased your daughter liked it. Our Spud is turning out t be quite the celebrity!